Ep 42 – Patreon, the Universe, and Eurovision
Two Players and Up is a short podcast in which Eran and Aviv provide some insights into the making of the strip, recommend various geeky stuff, and open many booster packs, daddy wants a Legendary.
The intro and outro are taken from "Vivacity" Kevin MacLeod (incompetech.com)
Licensed under Creative Commons: By Attribution 3.0 (http://creativecommons.org/licenses/by/3.0/)

Subscribe with iTunes
Subscribe to the RSS feed (Feedburner)
Why should you pay us money?
You don't have to pay for anything – everything on the website is free for your entertainment consumption. If you do find it entertaining, though, and find yourself coming back for more, we encourage you to consider paying for it – it will allow us to keep doing the things we do.
We believe that good work deserves remuneration, even if there's no specific price tag on it. Patreon allows us to give our audience the ability to decide how much, if at all, they're willing to pay for our work. If you think it's good, we'd love to have you become a Patron of us. If you think the entertainment we provide isn't good enough – we'd love to hear how you think it can be better! Email us at comics@uptofourplayers.com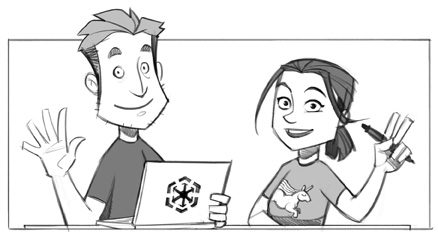 At 500$ a month, if we reach this goal, we'll start doing a live-streaming drawing once per month. What shall we draw? Cookies, obviously.
5:10 No Such Thing as a Fish
A great podcast by the QI elves.
Watch some QI here.
6:50 Aviv and Ev Failed at a Pub Quiz
A pub quiz is when you go to a public drinking establishment and embarrass yourself by not searching Google for some obviously worthless bits of information. I don't get it.
9:20 Eran and Dassi failed at Would I Lie to You
It's another great UK show.
13:50 Eurovision Contest
Spain didn't win 🙁
But we got this excellent thing. Love love peace peace!!