Something for UK Games Expo 2015
Hi everyone! We just finished the 3-day convention UK Games Expo, and it was awesome! UK Games Expo is the biggest boardgame and RPG convention in the UK, which takes place every year in Birmingham at the beginning of June, and this year was surely it's biggest success to date. Although we can't say for sure yet, we reckon that there were at least 7000 participants across the three days (more accurate numbers will probably be published by the organisers soon), and it was very evident wherever you went. One of the most lovely sights was too see how enthusiastic everyone was to play – let's just say that if there was any possible available surface, at any possible time, you could be sure that there was someone playing something on it – not just in the playing rooms, but lone tables and chairs placed in the corridors, tables on the veranda of the hotel overlooking a swimming pool, and sometimes even stairs and floors.
We had a very different and in manifold ways more jolly convention than our previous UK Games Expo two years back thanks to our very good mate Joe, who joined us for the three days and was wonderful company and a fantastic gaming partner,  enabling us to play story-based games intended for three players, namely the 'The Quiet Year' and the magnificently romantic 'Hot Guys Making Out' (the name says it all).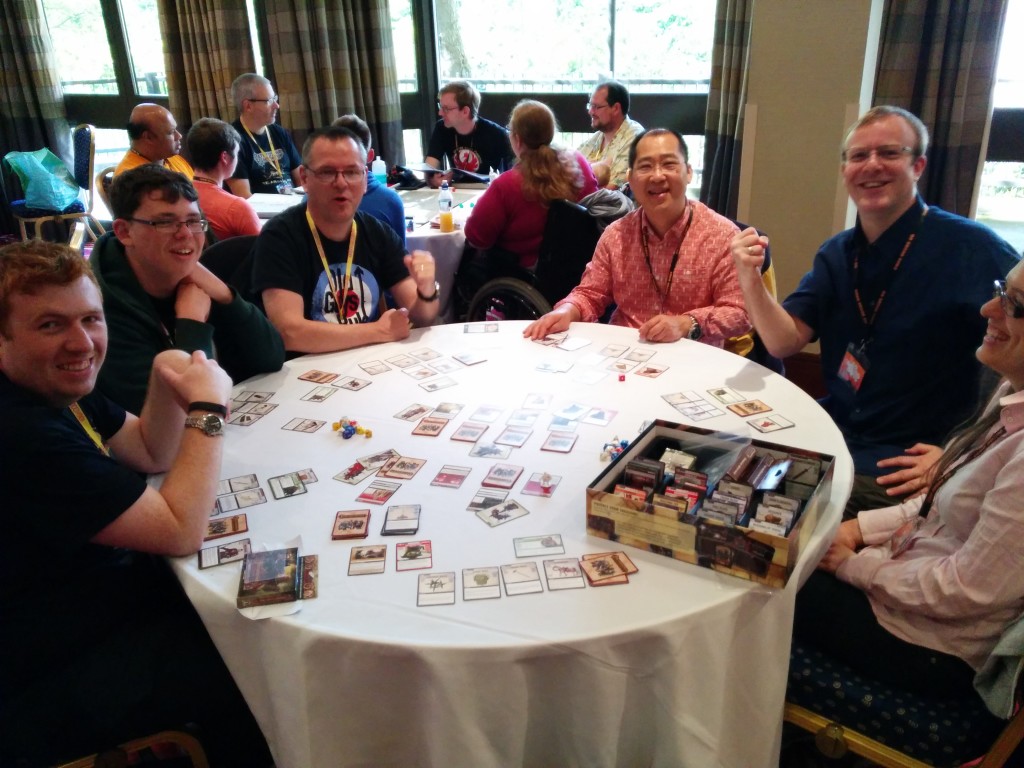 The other awesome quality was the range of ages. In Dragonmeet, the London-based one-day RPG and boardgame convention that we attend every December, we're always struck by the fact that the ages are pretty mature – 45+, often 55+. Which is fine of course, but we would still be happy to see more people in their twenties or thirties. In UK Games Expo, the age range is much more diverse – many groups of friends that seem much closer to our own ages of 31 and 35 – and even more heartening in a sense, families with small children. Which made things really lively. In our own sessions running Pathfinder Card Game, we had a lovely father-son duo, with the seventeen year-old player brilliantly playing his role of huntress. The range of nationalities was also diverse in a cool sort of way – we had three players that came to participate in the International X-Wing tournaments, one British, another from Kuwait, and a third from Finland(!). We saw the British player again, incidentally, in the final rounds of the tournament – fingers crossed for him!

But it wasn't just size that made this UK Games Expo unique. The greatest success was the teeming treasure trove of 'Bring and Buy', where players brought used games to be sold and others queued up to find bargains. Although we've been to our share of huge conventions like Gencon, Essen, and PAX, we've never seen anything like it. Families queued up from as early as 8am with canvas bags full to the brim with their games, and shortly thereafter people were happy to stand for 20 minutes for the chance to purchase them. We must confess we too could not resist the bewitching temptations, and shall return with a suitcase that was initially nearly empty, now bursting at the seams with Imperial Assault, Civilisation, and a British Indie game called Lugo, all at a bargain price. Other enticements that we barely resisted included Decent with ALL of the Expansion for £130, Old School RPGs, and a veritable plethora of Eurogames…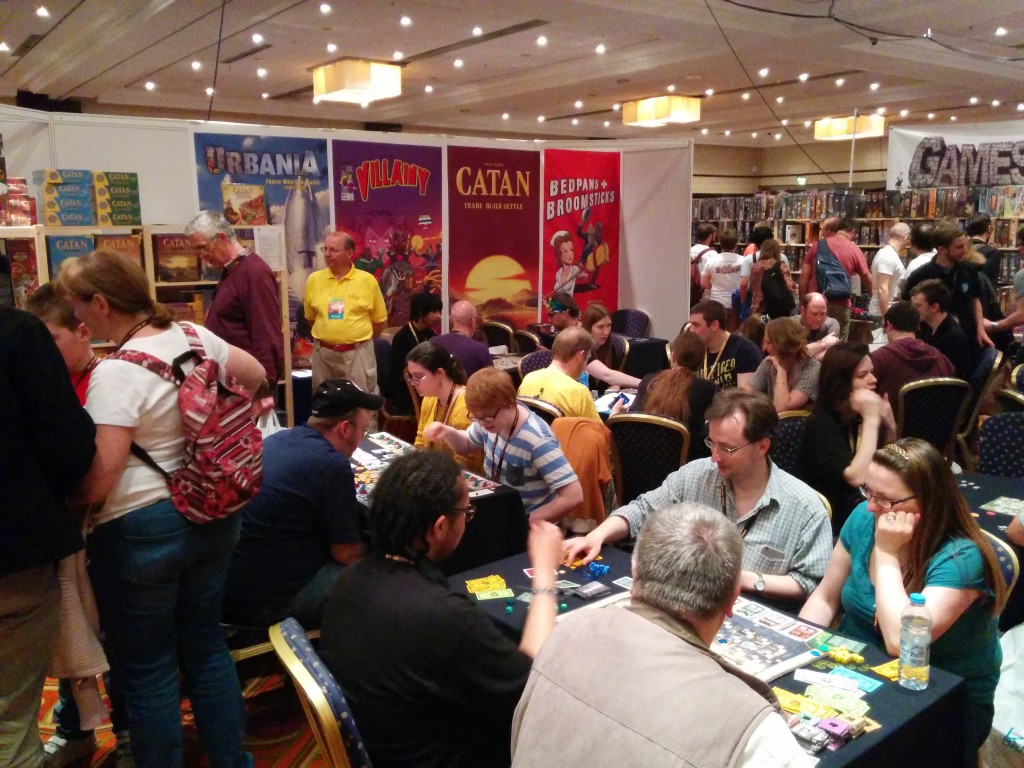 Now, some weird stuff that you will likely find nowhere else unless you're into it: an indie game called 'Walk to Jesus', subtitled 'Christian Motivation Family Game', and with the tag line 'Help Other Players and Come to Heaven'; a lonely elderly lady – I'm not exaggerating for effect, this was literally a seventy-year-old-lady sitting entirely alone in her stall – playing a game that looked exactly like a first edition of scrabble, beside a stack of flyers advertising a game with no less catchy a name than 'ITLMAKEUTHINK'; and 'The Hen Commandments', from the guys who gave us 'War on Terror'.
Happy spring gaming conventions everyone!