The Crystal Heart Role-Playing Game
Coming to DriveThruRPG and maybe even some retail stores, this summer*! 
(*probably)
The setting book will be printed in softcover "graphic novel" format (6.625 by 10.125 inches; 17 cm x 26 cm), with 216 pages in full colour, and tons of new art by Aviv.
The book includes: 
Rules for using and misusing Crystals
A few dozen Crystals for your characters to start with
A few dozen Crystals for your players to find, including their feral manifestations – the strange effects surrounding uncontrolled Crystals
Guidelines for using and creating Crystals
Everything you need to know about Syn (and a few of the things you shouldn't know)
Everything you need to know about the world of Crystal Heart and each of the Five Lands in order to have fun adventures in them
A full Plot Point campaign spanning 8 adventures
Lots of adversaries worthy of your antagonism, whether human, animal or Crystal-tainted 
And all the Edges, Hindrances, weapons and setting rules you need in order to get the coolest Crystal Heart experience possible.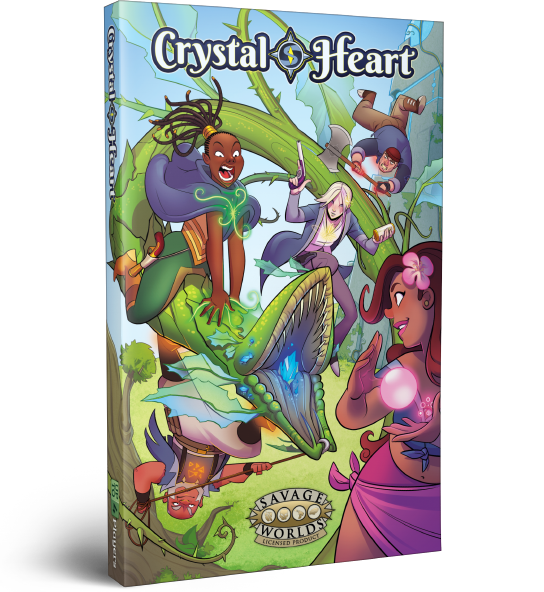 Get a taste of the full game by playing Crystal Heart right now! The free Starter Set includes the rules for using Crystals, six ready-to-play Agents, and a one-shot adventure.