Role playing games are great – let's learn some rules!
Hand these guides to the new players at your convention game, use them to convince your friends to try a new system, or read them yourself to learn a new game.
These explanations aim to help the reader grok the basic mechanical concepts these systems use, to allow them to understand how the system works. For accurate details and further rules, read the rulebooks!
Star Wars RPG
by Fantasy Flight Games
Useful for Edge of the Empire, Age of Rebellion, Force and Destiny and The Force Awakens.
Download the comic in PDF!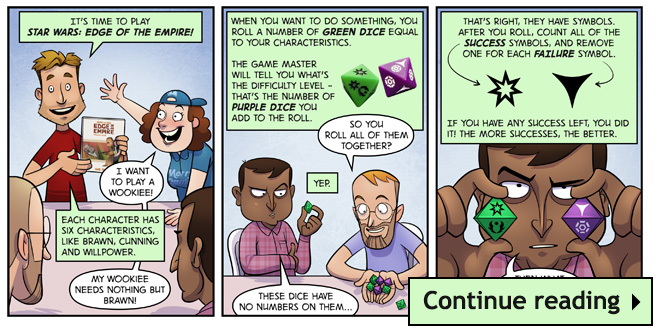 Fate Core
by Evil Hat
Useful for Fate Core and probably also Fate Accelerated. Pay what you want for the rulebook (affiliate link)
Download the comic in PDF!

Savage Worlds
by Pinnacle Entertainment Group
Useful for all editions of Savage Worlds. Buy the rulebook here (affiliate link)
Wild at Heart, the first chapter of our Crystal Heart comics, explains Savage Worlds and shows it in use. Start here!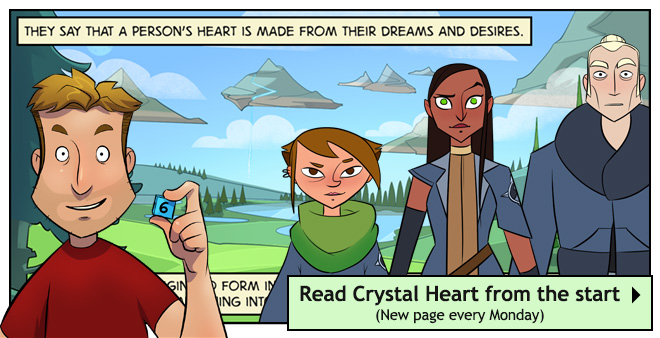 You are welcome to print these summaries for personal use. Please do not edit or change thes summaries without first asking premission from us ([email protected]). Please do not post these summaries as your own. We weren't paid by these companies to create these explanations, we just like their games.