True to Your Heart – Page 24
This page contains a truth regarding their hearts.
Patreon, now in GBP (sort of?)
Our Patreon page is now set to accept different currencies, so patrons from non-USD countries can choose to use their local currency and avoid exchange fees. Hurrah! You might still see dollars in the "Select a membership level" page, but after choosing a level you'll be able to change currency, and the tier amount should change accordingly.
None of this matters, because we don't actually give anything for different tiers. This is your semi-regular reminder that our Patreon is your way to pay us for the entertainment we provide and help us fund further projects, and that you are by no way required to do so because this website's free and shall remain free.
If you're an existing patron, your committed monthly amount should remain exactly the same; the transition to GBP is only on our side, and going forward to new patrons who choose so.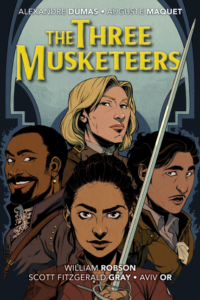 It's an illustrated, edited version of the classic novel of adventure and romance "The Three Musketeers", with a few subtle changes, as you'll note from the cover. Aviv already did some initial art, Scott Fitzgerald Gray is the developer, and it's on Kickstarter right now.